J&L Style Die Heads & Replacement Chasers
Customers swear by the precision and durability of Muskegon Tool 's J&L style die head parts and replacement chasers.
Delivers superior performance again and again. Thread chasers are precision ground from high-speed steel to your requested thread form. Chasers are manufactured to be re-ground time after time, maximizing tool life.
Minimizes downtime. Many standard die head parts are available for immediate shipment; custom die head parts arrive fast, too.
J&L-style die heads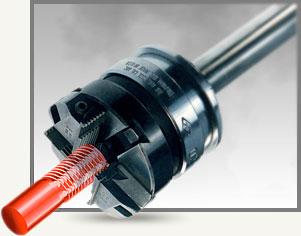 J&L-style die head parts & repair service
Is your J&L-style die head performance not what it used to be? Send it to us for analysis and repair. Muskegon Tool stocks many replacement parts so we can offer fast turn around on repairs. Call Muskegon Tool for more details or click here.
Custom ground replacement chasers
Needs no adjustment. Helix is ground in so it's ready to operate as soon as it's set up.
Delivers high-speed results. Chasers are precision ground from high-speed steel or carbide to give you a highly repeatable, superior performance. You specify the thread form you require and let us analyze how we can improve your thread cutting performance.
Arrives fast. We've streamlined our production process so you get your custom ground replacement chasers in as little as two weeks.
Re-use, re-use, re-use. Thread chasers can be re-ground time and again, extending tool life for years. Don't have to equipment to re-grind? Send them to us and we'll do the work for you.
Available in tangent and radial styles.
To discuss your specific threading application, call Muskegon Tool or click here.