Universal Style Spade Drills
Are you looking for a much faster way to produce large diameter holes or special contours? Spade drills offer some distinct advantages over twist drills.
Runs at higher speeds and feed rates without tool breakage.
Drills in one-pass. A chip curl is ground along the cutting edges to break the chips as they form. Chip breaker grooves direct the small, narrow metal chips out of the hole so you can complete the hole in one pass. The efficient removal of chips also keeps the spade drill more rigid, improving drill performance and precision.
Lasts longer. The cutting angles provide greater support of the cutting edges so tools last longer. And all Muskegon Tool spades can be reground to extend their life making them a cost-efficient tooling option.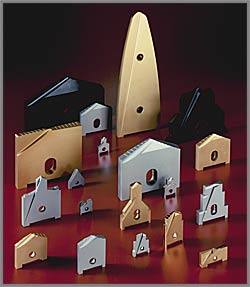 Custom Spade Drills
Custom spade drills: Send us a print of your application. Muskegon Tool's design team will make a spade drill to your specifications from high-speed steel or carbide. Click here.
Standard HSS spade drills: 1/8-inch increments from 1 to 6 inches stocked for immediate shipment. Grind-down service for in between sizes available at no additional charge. Special coatings available on request. Click here.
Custom Spade Drills
34507

Special counter-sinking spade drill and holder.

34546

9.00" Diameter special spade drill bit.

34576

Flat bottom spade drill bit and special holder with bronze wear strips.

34739

Special spade drill bit and holder with bronze wear strips for 38" depth of cut.

35117-2

Special 6.00" x 60 degree center drilling finishing spade bit with pilot.

35117-3

Special 6.00" x 60 degree center drilling roughing spade bit with pilot.

35243-2

Special form cutting spade drill bit.